Brand : "Holysun"
Series : "HSD"
Color : Blue
Producing area: Shanghai.China
HOLYSUN "HSD" refrigerated air dryer's advantages:
INNOVATION EFFICIENCY ENERGY CONSERVATION ENVIRONMENT PROTECTION
The Advanced Technology:
Perfect refrigerated system configuration. Initial parts come from foreign famous brands to ensure efficient & system reliable running & life as well.

Refrigerated & air system is accurate calculated by professional designing engineer, keep 20% capacity.

Gas liquid separated thoroughly. Filtering separated with HANKISON element. Thorough separation, avoid the second vapor of water, ensuring dry effect. It better than cyclone separated and it will reach efficiency at 99.99%.

Pipeline is made from inner zincification. You can choose working pressure during 0.3~4.5Mpa.

Stainless steel pipeline, it's suitable for medicine, food stuff, acid-resistant, alkaline-resistant and erodent-resistant industry.

Ripple pipeline of both internal and external of the heat exchanger to increase the using rate of cooling air, adverse current structure, perfect returning temperature and it won't freeze.

Evaporator is made from laminose copper pipeline with aluminum flake, high efficiency of heat exchanging of the perfect structure.

Good drainage, it adopts 3 grades for draining, can drain lots of condensate water and oil contaminant so as to keep clean and dryness of the system and air, meanwhile reduce system load.

Multi-control of circuitry to supply to different users (single control; integrate circuit, linkage control, PC panel, frequency conversion, etc.)

Outer cooling fan with large volume, low noise, and long life if switch frequently.

Low condenser made from copper, slow flow, multi-cycling and high heat exchanging rate. It won't freezing and dirty if stop for a long time.

Armstrong foam burning resistant & adiabatic material. It's the least loss of cooling air.

Protection level of

compressor is

IP54 (dustproof and spill proof).
Working Elements:
The compressed air goes into the pre-cooler(20、21) for pre-cooling. Then goes to the heat exchanger(1), further bringing down the temperature by the refrigerated air, meanwhile, draining out the condensate water. The air entrance to the evaporator for heat exchanging among the refrigerant(2-evaporator),and further cooled by the refrigerated systems. The compressed air goes through pre-cooled (20、21),heat exchanger(1) and evaporator(2) for cooling step by step, vapor of the air coagulated liquid water, and then through gas/liquid separator(3), draining out the liqued.

The dried air comes out from gas/liqued separator(3), next, goes through heat exchanger(1) for other flow. It's became calefactive when leaving the dryer.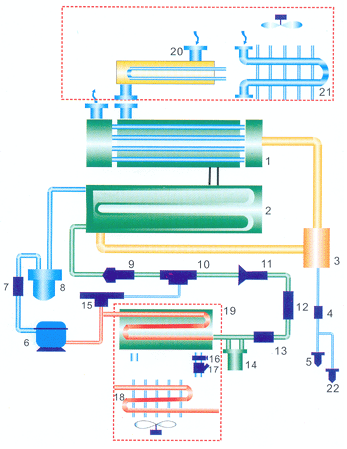 Normal inlet temperature Air-cooled Refrigerated Air Dryer

Working Condition & Technical Data:
Inlet temperature:

≤

45

℃

Cooling method:

Air-cooled

Design dew point:2

~

10

℃

Refrigerant: R22

Inlet pressure: 0.6

~

1.0MPa

Pressure drop:

≤

0.02MPa



Model, Size & Technical Data:
model

HSD-15NF

HSD-20NF

HSD-25NF

HSD-30NF

HSD-40NF

HSD-50NF

capacity(Nm3/min)

17

23

27

33

45

55

voltage(v/Hz)

380v/50Hz

compressor power(HP)

4.0

5.0

5.5

7.5

10.0

13.5

fan power(W)

180×2

245×2

245×2

245×2

245×3

450×3

air connection

DN80

DN80

DN80

DN80

DN100

DN125

net weight(kg)

400

450

570

660

770

850

dimensions(mm)

length

1360

1650

1650

1650

1810

2245

width

710

970

970

970

1090

1410

height

1205

, 1422

1422

1422

1697

1955